Click Me!
---
VARIETY PUZZLES
PROBLEM 002(VERY EASY)
How many Boxes
Pictured below is a pile of boxes. And it shows the front figure,
the side figure and the top figure you can see. Now, how many boxes is here?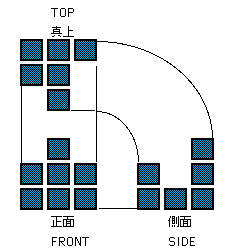 【箱はいくつ?】
箱がいくつか積み重られています。これを、正面、側面、真上から見ると
図のように見えました。さて、箱は全部でいくつあるでしょう?
This problem is very easy, so there is no solution. Solve it by yourself.
簡単な問題ですので、答えはのせません。考えてみて下さい。



---
Click Me!