Click Me!
---
VARIETY PUZZLES
PROBLEM 001(VERY EASY)
THE DICE FIGURE
Pictured below is the unfolding figure of a dice.
But some spaces are covered by the shadows, so you can not see the numbers of this dice.
Only this infomation, you can determine the number of "?"space.
Of course in this dice, the face number plus the reverse number equals seven.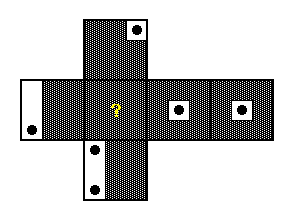 【サイコロ展開パズル】
図のような展開図のサイコロがありますが、斜線部がふせてあって、
分かりません。?のところには、いくつの目が入るでしょうか。
もちろん、サイコロは、表の目と裏の目を足すと7になります。
This problem is very easy, so there is no solution. Solve it by yourself.
簡単な問題ですので、答えはのせません。考えてみて下さい。



---
Click Me!